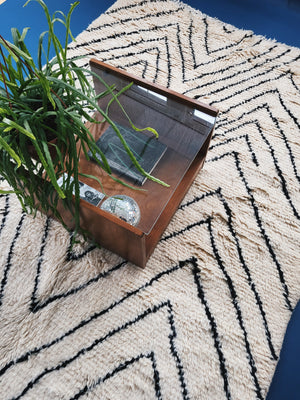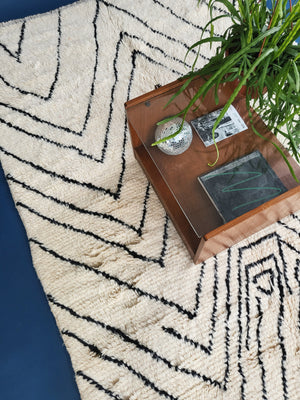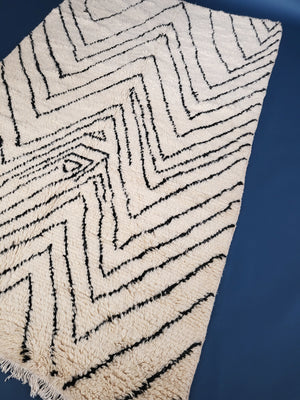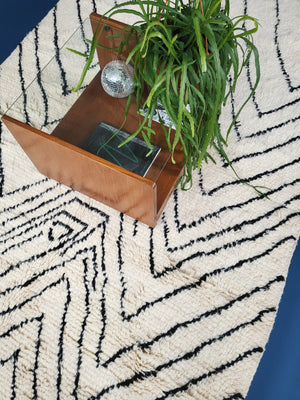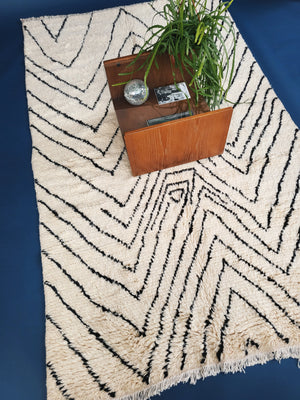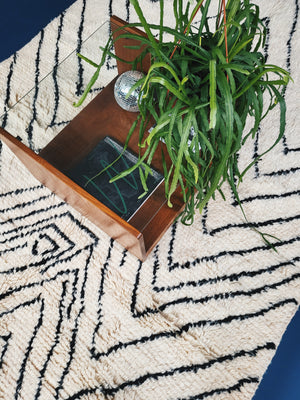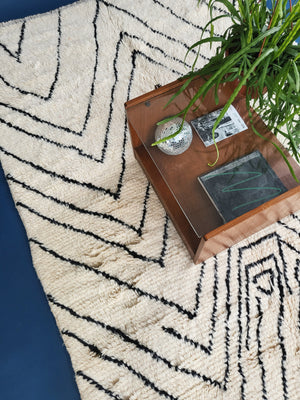 Zohra
Zohra is a splendid Moroccan Beni Ourain rug originating from the region surrounding Ouarain. This meticulously handwoven rug is the handiwork of Berber women who call the high peaks of the Middle Atlas Mountains in Morocco their home.
Distinguished by its distinctive punk-like zig-zag design, this rug is meticulously woven from natural cream and vegetable-dyed black wool. Each rug stands as a unique creation, bearing woven patterns and designs that hold profound symbolism and personal significance for the individual weavers, rendering them genuine works of art.
As handmade rugs, they may exhibit charming irregularities, including wonky edges, natural fading, and delightful color variations. We firmly believe that these characteristics serve only to enhance and augment the allure of the Moroccan rug.
The rug's captivating natural tones intricately interwoven into eye-catching tattoo designs, geometric shapes, and abstract lines create a captivating contrast that will undoubtedly elevate any setting. With the passage of time, the rug's wool, known as "diba," has mellowed, resulting in a luxuriously soft texture that offers a delightful tactile experience.
Our rugs are exclusively 100% authentic Moroccan rugs, and chosen for their outstanding quality and timeless style.
Rest assured, these rugs are in excellent condition, free from any holes or tears. They have undergone professional washing and cleaning, rendering them impeccably clean and ready to grace their new home.
Specifications:
Dimensions: 246x156cm
Origin: Moroccan
Year: 1970
Pile: Thick
Fun Fact: Zigzag lines, often referred to as "evil eye" 👁 patterns, are believed to deflect negative energy and provide protection against the evil eye. They symbolize spiritual defense and act as a safeguard against harm.