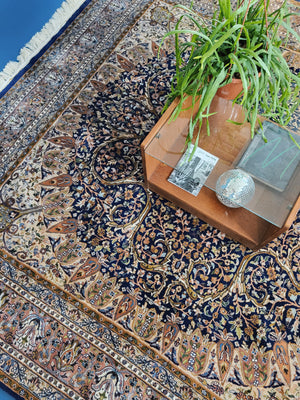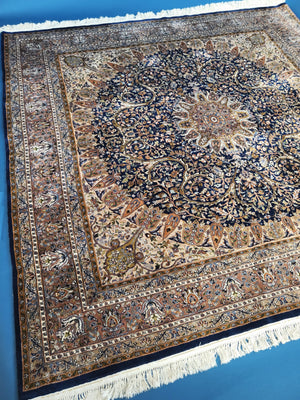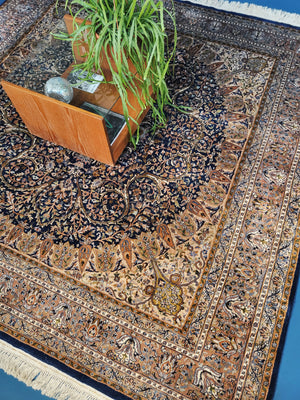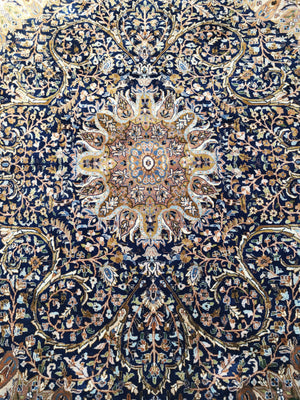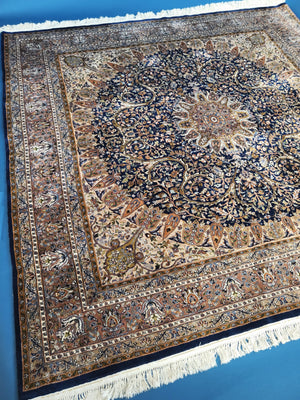 Elaheh
The Tabriz - 
Tabriz rugs are among the oldest and most renowned Persian rug styles, originating from the city of Tabriz in northwest Iran. They have a rich history dating back hundreds of years.

The Persian Tabriz will always be an item of great beauty and status, and carries the legacy of the old Persian carpet weaving tradition to present day.

Tabriz rugs are known for their exquisite craftsmanship and intricate designs. Skilled artisans hand-knot each rug using high-quality wool or silk, creating stunning patterns and motifs.

This style of rug features a wide range of design elements, including floral patterns, pictorial motifs, geometric shapes, and medallions. The diversity of designs reflects the various influences and cultural backgrounds of the weavers.
This beauty is handwoven in the 1950s, using organic vegetable dyed wool in peachy gold, navy blue, black and cream tones. 

Excellent condition, no holes or tears, professionally washed and cleaned, ready for a new home.


Measures: 250 x 248cm
Origin: Iran
Year: 1950
Pile: Thick
Free UK and local central belt delivery. 
Second Hand Persian Rugs UK By How Bizarre Rugs