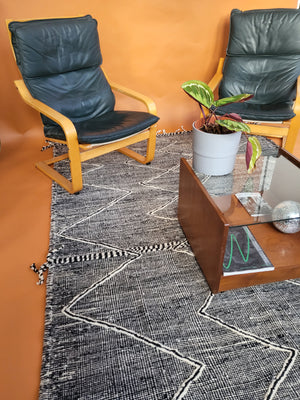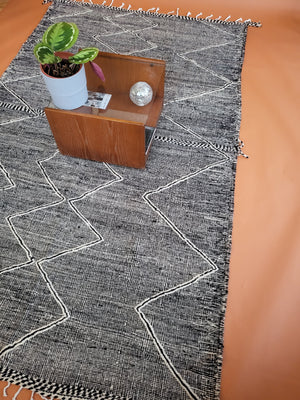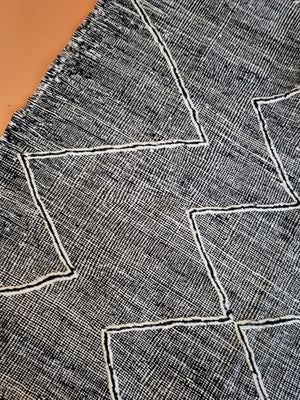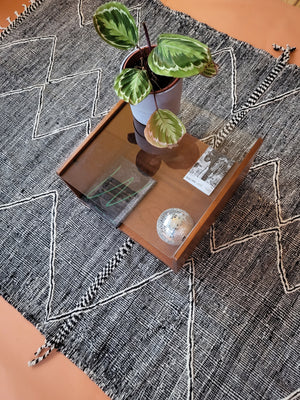 Abtan
Abtan is an authentic Berber kilim woven rug from the Moroccan Zanafi tribe.
Zanafi rugs are handwoven knot-per-minute by local Moroccan women in the Sahara Village area in the foothills of the High Atlas Mountains. Zanafi feature unique handmade artwork that is designed with beautiful intricate geometric designs and natural figures in a neutral and Mediterranean style. 
The technique used by Berber women to weave a Zanafi Hanbal rug is similar to that of making a kilim using cloud white and vegetable dyed black wool. Most Hanbal rugs feature braiding, woven stripes, tassels and tufty raised patterns.  
No two rugs are the same, and woven patterns and designs are very symbolic, and personal to each weaver, making them works of art.  
Handmade rugs may include some irregularities, wonky edges, natural fading, and color variations. We feel these characteristics only enhance and add to the charm of the Moroccan rug.
Our rugs are 100% authentic Moroccan rugs and have been hand selected for their quality and style. These rugs were woven with wool from the sheep of the Atlas mountains and combine a blend of traditional and contemporary styling ensuring they will work well with most design styles. 
Measures: 301x185cm
Origin: Moroccan
Year: 1970
Pile: Thick