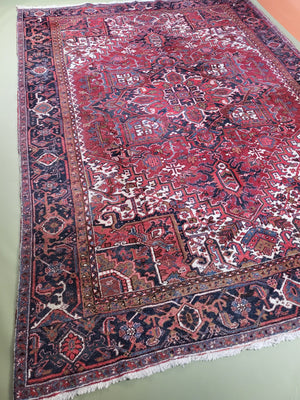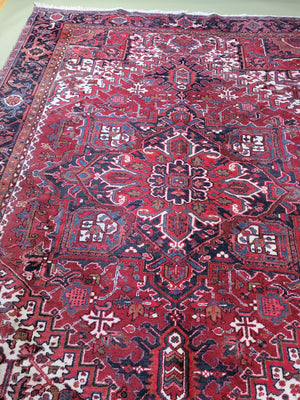 Azar
The Heriz - Originating from the Northwest corner of Iran, with a harsh climate from the mountainous southern slopes of Iran's 3rd highest volcanic mountain. The small towns that create a network of independent weavers produce the much-sought-after rug known as Heriz.
Easily one of the most distinctive and readily-identifiable of the Persian styles of rug, the carpets made in and around Heriz are typically large, heavy, notably-durable and feature bold and dramatic color and design.  Heriz rug's are renowned for their longevity and hardiness from the copper-rich water around the Sabalan Mountain., where the sheep around this area produce a more-durable, more-resilient quality of organic wool.
This gorgeous hand knotted antique Persian Heriz rug from the 1960s. Woven in various shades of red and navy and cream organic wool.🐪

A true work of art that will last for generations in a loving home.

Fab condition, no holes or tears, professionally washed and cleaned, ready for a new home. 

Measures: 331x244 cm
Origin: Iran
Year: 1960
Pile: Thick
Free UK and local central belt delivery.  
Second Hand Persian Rugs UK By How Bizarre Rugs